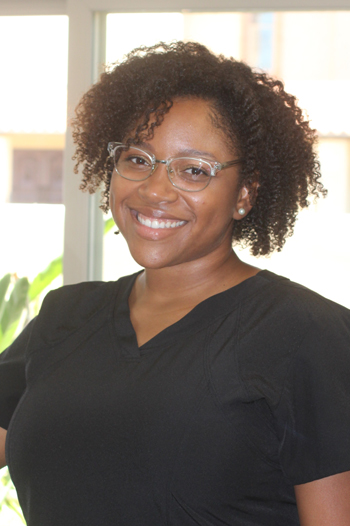 TeVona
Registered Dental Hygienist, A.A.S. in Dental Hygiene
Year started in dental industry: 2013 – Joined Artistic Dental: 2017
Favorite Quote:
"I've learned that people will forget what you said, people will forget what you did, but people will never forget how you made them feel."
~ Maya Angelou
I grew up in Phoenix and initially began my career working for the Department of Environmental Quality, but quickly found that office work wasn't my passion. My experience as a dental and ortho patient inspired me to explore dentistry as a potential career. At 22, I got braces and it led to my mom and siblings getting theirs. I found myself administering dental care to them, helping to floss and "clean" their teeth even before going to school.
When speaking with our dentist, she initially encouraged me to go to dental school. After shadowing her for a day, I knew I wanted to become a dental hygienist instead. I completed the program at Phoenix College for Dental Hygiene and currently attend NAU for continuing education to earn a Bachelor's in Dental Hygiene.
I love taking care of patients, making sure they have a healthy mouth in relation to rest of their body and helping them get optimal results. When they smile, I smile. Apart from work, I love to travel and spend time with my husband and our dog, exploring new places. I also love to volunteer and have donated time at St. Vincent De Paul's dental clinic, CASS, and John C. Lincoln Desert Mission dental clinic.