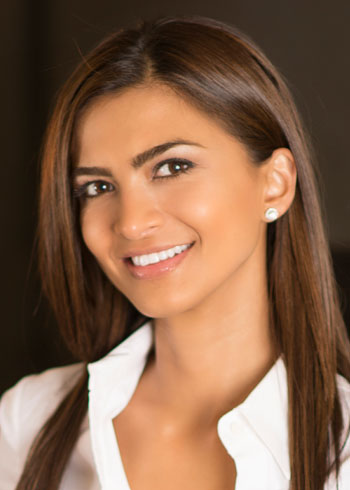 Prabidhi Adhikari, D.D.S., FAGD
Prabidhi Adhikari grew up in Cambridge, Massachusetts and then moved to Toronto, Canada where she graduated high school. The middle of three children, Adhikari joined her sister in Phoenix, AZ when it came time to attend college, seeking a warm climate and a spirited environment.
While studying biology as a student at Arizona State University, Dr. Adhikari shadowed a few dentists and found she loved the interaction with patients. Dentistry allowed her to pursue a career in healthcare, utilizing her strength in science, her desire to help others, her creative interests, and her attention to detail.
Dr. Prabidhi Adhikari sees dentistry as an art, where she has the opportunity to work closely with patients to create new smiles every day.
After graduating from ASU in 2005, she headed east to attend New York University School of Dentistry to earn her doctorate in 2009. Dr. Adhikari continued her education with post graduate training at the University of California, Los Angeles. During her advanced education residency, Dr. Adhikari focused on complex treatment planning and learned to manage difficult patient cases. Through intensive course work, she gained hands-on experience in implant placement and restoration, surgical extractions, multiple system rotary endo, periodontal surgeries, and multiple prosthodontic procedures.
After graduating from UCLA in 2010, she joined a private dental practice in Los Angeles, but soon chose to return to Arizona to be near her family and build her career. Moving back to Phoenix in 2011, she provided patient care for a few private practices until Dr. Adhikari found her fit with Dr. John Dougherty of Artistic Dental at the Biltmore. The two dentists share a belief in helping patients achieve overall health by integrating oral health with systemic health for optimal care.
Dr. Adhikari conveniently resides in the Biltmore area of Phoenix, just up the street from her office. When she is not caring for patients, she enjoys spending time outdoors, seeing family and friends, and staying fit running, hiking, and practicing yoga.
Credentials and Memberships
• Doctor of Dental Surgery, D.D.S, New York University College of Dentistry, 2009
• Advanced Education in General Dentistry Residency, UCLA 2010
• Academy of General Dentistry, Fellowship 2015
• American Dental Association
• ASU Alumni Association
• NYU Alumni Association
• California Dental Association