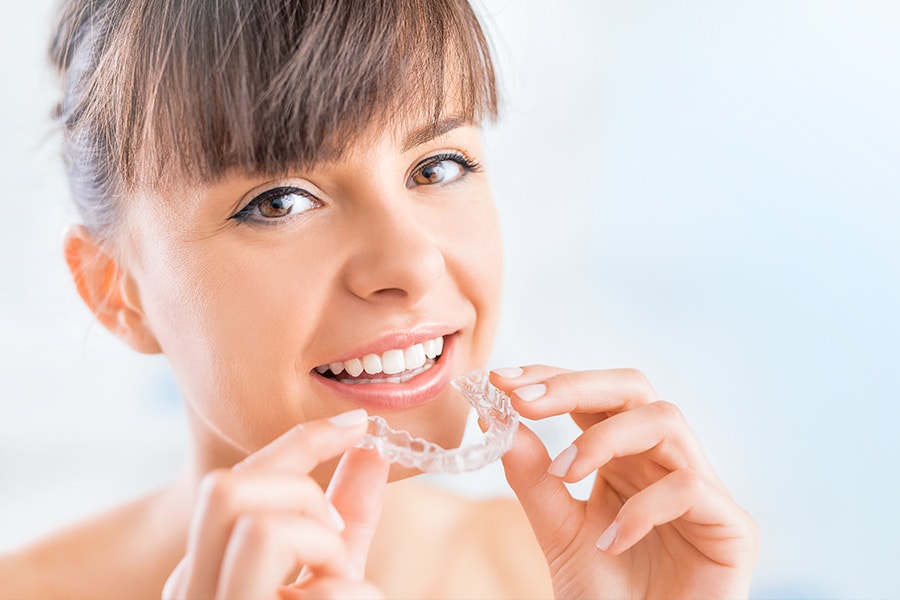 A good smile is one of the most fashionable accessories you can wear, but nobody enjoys suffering through the restrictions that come with braces. Braces aren't fun, nor are they fun to look at. That's why, over the past few years, products like Invisalign® have been on the rise. However, in a media-dominated world, it's important to remember one caveat: not all products are created equal. The process of shifting your teeth for a straighter smile is a big commitment. When performed incorrectly, there are a lot of things that can happen, including added expenses and greater discomfort. To make sure you're getting what you pay for, and avoiding painful, costly repairs down the road, it's important to work with a qualified dentist before using Invisalign® or any other teeth-straightening product.
The way products like Invisalign® work is by gradually shifting your teeth, exactly like braces, without any unsightly, uncomfortable wiring. Using clear, removable aligners, you can now safely, effectively, and discreetly straighten your teeth. Each set of aligners should be worn for about 20-22 hours a day for 1-2 weeks. After which, you simply change out the aligner to the next step. Using a gradual process, there is minimal discomfort with maximum results.
With that being said, you still need to visit a qualified dentist. Working with a qualified dentist allows you to create a treatment plan that's specific for you. This includes the precise movements of your teeth and how they will shift over time. During your consultation, you'll even be able to see a digital plan that predicts your transformation. As you continue to move through the trays, your qualified dentist will help make sure that things are going well and you're on the path to a straighter smile. If any problems occur, it's easy to make changes. If you find that your Invisalign® is uncomfortable, your qualified dentist can help trim the aligners to ensure a proper fit around your gums.
The problem is that many companies are advertising huge price reductions for products that "achieve the same results." While the price tag might be enticing, remember that you're going to be shifting your teeth permanently, and doing so without the guidance of a professional dentist or orthodontist is risky. Using an impression kit at home, then mailing it, does not ensure high quality or accurate results. When you finally do receive your aligners, they likely will not fit as precisely as when you visit a qualified dentist. Without a proper fit, your teeth may shift unnaturally and you may experience high levels of discomfort. When you're straightening your smile, it's not worth it to trust unpredictable results.
Instead of taking the risk, opt for Invisalign® treatments with a qualified dentist. Invisalign® is backed by decades of results and is the only aligner created using SmartTrack material to make sure that your teeth are moving the way you want them to. If you're ready to have the confident smile you've always wanted, contact the professionals at Artistic Dental today. Our dental specialists are certified and trained in Invisalign® and here to offer the highest quality of modern dental care to all our patients. Give us a call at 602-840-5400 or message us on our website today.