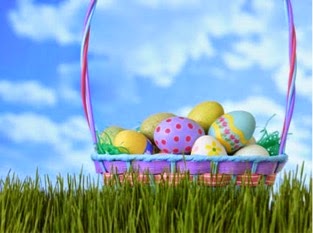 Easter is around the corner and you might be thinking about what you should put in your child's Easter basket. This year, challenge yourself to put together a personalized and unique, no-candy basket full of items your child will love. Check out this list for some suggestions to get you started:
Healthy snacks – Just because a snack is healthy doesn't mean it can't be delicious! We recommend fruit, hard-boiled colored eggs and trail mix as nutritious options for your child's Easter basket.
Gift cards – Depending on your child's age and interests, pack a gift card or two treating them one of their favorite places. Older kids might enjoy a gift card for subscriptions or a clothing store, while younger kids might like a gift card to their favorite toy store.
Coloring Books – Get your child's creativity going with a coloring book. Picking out one that features Easter or spring related pictures makes for an especially festive gift.
 Stickers – It's no secret that kids love stickers! Pick some out that match your child's interests or a cute Easter-themed set with bunnies, eggs and chicks.
 Books – Take this opportunity to encourage your child's educational development!  Select storybooks to read to your children, a classic novel they might enjoy reading on their own.
 Action figures or dolls – Is your child obsessed with a popular TV or movie character? Consider getting them an action figure or doll! They'll love getting creative and making up their own story lines with their favorite characters.
 Movie tickets – Treat your child to a movie night by putting some movie passes in their basket. Let them pick the movie and make it a fun outing for the whole family!
 Bunny ears – Kids love wearing costumes. Bunny ears or other festive, Easter-themed hats or headbands are the perfect accessory for the day!
Legos – Did you know that Legos can help develop children's cognitive abilities? They offer a wide variety of choices appealing to all ages.
Movies – Pick out a few movies your child is sure to love for their Easter basket! Once the Easter egg hunt is over and they're all tired out, watching a movie will be a perfect activity. If you just have to give your child some candy, consider chocolate, as it's less sticky and less likely to cause cavities. Just make sure it's all in moderation and balanced with some healthy alternatives. Happy Easter!