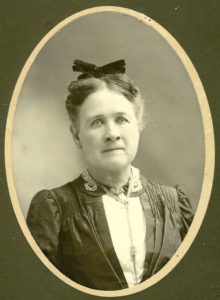 March is National Women's History Month and while we are honoring females making "herstory," we thought this would be the perfect time to tell you about our country's first woman dentist—Lucy Hobbs Taylor.  She became a dentist despite the establishment's determination to keep her out of the profession.
Want to work? Try teaching
Born in 1833, Constable, New York, Lucy was the seventh of ten children to come along in her family. From a young age, Lucy always had strong interest in medicine and read everything she could on medical science.  However, at the time, most educated women went into teaching and that's what Lucy did as well. After graduating from the Franklin Academy in Malone, New York in 1849, she took a teaching position in Michigan.
Off to Ohio
But Lucy never lost her fascination with medicine. So, after teaching school for ten years, she moved to Cincinnati to be near Eclectic College of Medicine, the only medical school that accepted women. Unfortunately, right about the time Lucy applied for admission, Eclectic reversed its policy and stopped admitting women.  Rather than give up on the idea, Lucy found a professor from the medical school to tutor her. The professor saw an adept future doctor in Lucy but also recognized the realities of the chauvinist medical establishment and its propensity for roadblocking women doctors. The professor thought Lucy might have better luck pursuing dentistry.
The answer is still no
Lucy began studying with the dean of the Ohio College of Dental Surgery. He took her on as a private student and even helped her land an apprenticeship with a graduate of the college. Once she completed her apprenticeship, she applied for admission to the dental surgery program. Ohio College rejected for the sole reason, she was a woman.  Undeterred, Lucy, at the age of 28, opened a dentistry practice anyway—without a diploma. This was common practice at the time.
On second thought…
The next year, in 1862, Lucy moved her practice to Bellevue, Iowa and then to McGregor where she was called, "the woman who pulls teeth." Three years later, Lucy's male peers elected her to the Iowa State Dental Society. In doing so, Iowa's Dental Society became the first professional dental organization to accept women.
Lucy had been treating dental patients for four years when the Ohio College of Dental Surgery finally granted her admission to its senior class. And in February 1866, Lucy became the first woman in the country to earn the degree of Doctor in Dental Surgery. She was 33 years old.
A family practice
With her diploma in hand, Lucy moved to Chicago, where she met her husband James Taylor. Although a railway maintenance worker, Lucy persuaded her new husband to go to become a dentist as well. The two of them moved to Lawrence, Kansas and operated a very successful dental practice together, catering mostly to women and children.  Lucy's husband died in 1886, and Lucy practiced only limited dentistry after that, but took an active role in political social issues.  In particular, Lucy fought for women's suffrage.
1000 women dentists
By the time of her death in 1910, the United States had nearly 1000 women dentists. Lucy's determination to step over and around the obstacles in her path also helped clear the way for women behind her. Today, about half of all dental students are women!
We are proud that half the dentists at Artistic Dental are women!  You can learn more about Dr. Prabhidi Adhikari here.