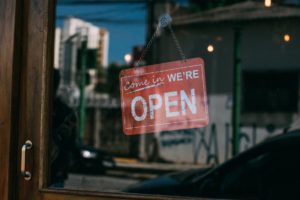 While most people are aware of Black Friday and Cyber Monday as the start of the holiday shopping season, not everyone knows about Small Business Saturday. The Saturday after Thanksgiving celebrates and encourages shoppers to support small businesses in their community. As a locally-owned dental practice in the Biltmore area, we want to share some of our favorite local shops and restaurants in our neighborhood:
1. Tarbell's Wine Store
This local gem is located in Camelback East Village and is a go-to for any wine enthusiast. It's the perfect place to grab a bottle for a special occasion and offers a great selection of wines. If you want to take advantage of another Tarbell favorite and are in the mood for a bite, you can grab a bottle from the wine store, walk through to Tarbell's Tavern, order a burger, and add the wine to your dinner bill. Catty cornered to The Tavern, the original Tarbell's is The Tavern's upscale brother, and is the ideal place for a fancy dinner.
2. Delux
This restaurant is known for their delicious, award winning-burgers, but it's important not to overlook the rest of the menu. If you're getting a burger, the shopping cart fries are a must. We recommend them mixed (regular and sweet potato) with the killer chipotle aioli dipping sauce. Delux also has a great sushi menu (adapted from Zen32) and selection of draft beers. A major plus: They offer curbside service.
3. Cornelia Park
Cornelia Park has been a beloved staple in the Biltmore Fashion Park for generations. The gift shop sells an array of eclectic home goods and the most extensive, independent Mackenzie-Childs collection in the world. With hostess gifts, toys and books for children, and a big selection of collegiate pillows, It's a great place to find a unique gift for anyone in the family.
4. The Duck and Decanter
Like Cornelia Park, The Duck and Decanter has been around for years, and is a well-loved lunch spot by Phoenicians. While it's known for its sandwiches (fondly referred to as "nooners"), it certainly isn't your average deli. The sandwich shop also has a large assortment of cheeses and meats, a wine bar, and a gift shop with all kinds of local goods. The Duck can be found tucked away in a corner of the Camelback Colonnade.
5. Base Pizzeria
Located in the shopping center at 32nd St. on Lincoln Ave., Base Pizzeria is unique amongst pizza places in the Valley. The Pizzeria, created by three Aussies, serves wood-fired pizzas with all organic, local ingredients. Next to Pizzeria Bianco located at Town & Country on Camelback Rd., it's one of our favorite pizza joints in the neighborhood!
These are just a few of the many restaurants and shops we love in the Biltmore area (check out our other blog post dedicated to our favorite lunch spots). As a local dental practice ourselves, we are proud to support other local businesses in the neighborhood. Living and working in the area we serve truly ties us to our community and helps us connect to our patients on a unique level. If you want to learn more about Artistic Dental or schedule an appointment, visit our website or call us at (602) 840-5400.