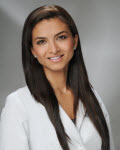 We are pleased to announce that Dr. Prabidhi Adhikari is now full-time at Artistic Dental, alongside Dr. Dougherty. Here is a Q & A so you can get to know Dr. Adhikari a little bit better:
Where did you go to school?
I completed my undergrad at Arizona State, then for dental school I attended NYU and I did my residency at UCLA.
What inspired you to choose to become a dentist?
I wanted to become a dentist because I like helping people and enjoy being able to use my clinical and artistic abilities to create healthy smiles.
What is the most rewarding aspect of your job?
I have the best patients. Being able to put a happy smile on their face and take them from pain to comfort is extremely rewarding.
What do you like most about working at Artistic Dental?
Artistic Dental is the perfect fit for me and it's an incredible opportunity to work with such talented people. Dr. Dougherty is so good at what he does and to be able to talk to someone about cases and get his opinions is fantastic.
What makes your day?
Being able to work alongside people who are like family to me.
What do you like to do in your spare time?
I like to run, do yoga and enjoy hiking. I also love hanging out with my dog, and my family and friends.
What advice would you give someone looking into becoming a dentist?
This profession is phenomenal and I would absolutely encourage anyone who is interested in becoming a dentist to go for it. It's important to shadow doctors and visit multiple offices to get as much hands on experience as possible.
If you or someone you know is in need of a dental check-up call (602) 840-5400 to schedule a visit with Dr. Adhikari.