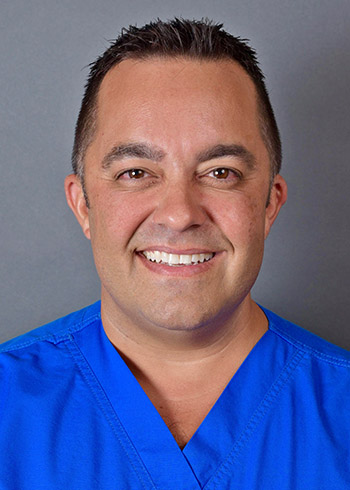 John A. Cianciola, D.D.S., M.S.D.
Dr. John A. Cianciola, a highly trained periodontist, moved his family from Rochester, New York to Arizona in 2015 to live in a warmer climate and began working with Dr. Dougherty and Dr. Adhikari in spring 2017.
For 14 years, Dr. Cianciola was a managing partner at Cianciola & Beach Periodontal Group in Rochester, where he treated patients in all phases of periodontal and implant surgical care. While practicing at Cianciola and Beach Periodontal Group, John also spent eight years working in an eight-doctor general dental practice performing implant and periodontal treatment for their patients. Dr. Cianciola specializes in cosmetic procedures such as crown lengthening, soft tissue grafts, bone grafts, implants, sinus grafts, periodontal plastic surgery, facial esthetics, and laser treatment with LANAP.
Dr. Cianciola holds a Bachelor of Science degree in Management Science in Marketing from SUNY at Geneseo. After completing his undergraduate education, he went to SUNY at Buffalo, School of Dental Medicine where he earned his Doctor of Dental Surgery graduating with a thesis honors and special recognition for Outstanding Clinical Research. Dr. Cianciola received his Certificate in Periodontology and Master of Science in Dentistry from Case Western Reserve University, School of Dental Medicine, in Cleveland, Ohio. He then completed his advanced training at the Peter Dawson's Center for Advanced Dental Study and the distinguished Misch International Implant Institute and, where he now serves as a faculty member.
Dr. Cianciola served on the Board of Directors for the Seventh District Dental Society and the Monroe County Dental Society for many years. In 2008, he was President and in 2009, Chairman of the Board of the Monroe County Dental Society. Dr. Cianciola was also on the Peer Review Committee and Professional and Public relations Committee for the County Dental Society. He formerly served on the Board of Directors for the Apollonian Dental Study Club and led the organization as its President. He is a member of the American Academy of Periodontogy, American Dental Association and Apollonian Dental Study Club.
For more than a decade, Dr. Cianciola ran a study club for 45 dentists and 250 hygienists. He's shared his expertise and commitment to advancing periodontal technology and patient care at Monroe Community College, Rochester, New York, where he educated hygiene students on dental implants, periodontics, and taught hygienists the Local Anesthesia and Nitrous Oxide Sedation Certificate Program. The Dental Hygiene Society of the State of New York awarded Dr. Cianciola for "Outstanding Contribution to the Field of Dental Hygiene."
Dr. Cianciola and his wife now reside in Scottsdale with their son. When Dr. Cianciola is not caring for patients he enjoys spending time with his family, playing golf, skiing and cooking.